These feeders are the two most popular. Tube feeders because you can use them anywhere with almost anything. Hopper feeders look great in any yard so are very desirable.
Tube Feeders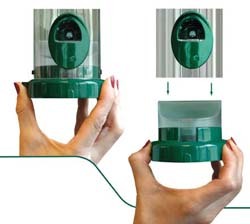 Tube feeders are possibly the most versatile feeders, allowing you to feed anything from mixes to black oil sunflower. They help keep the seed dry by enclosing it in a plastic tube. You can also add domes (to shield it from the rain) or trays (to catch unwanted seed and shells) to most of these feeders.

Quick-Clean Release Tube feeders come in several different models. Probably the best one on the market is the Quick-Clean feeder. The polycarbonate tube (making them UV resistant) and metal perches make this feeder very durable. But the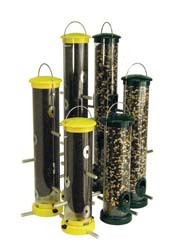 best feature of these feeders is a removable base - simply push in the tabs to remove the bottom of the feeder, no more screws!
Our tube feeders come in four sizes: small (2 port); medium ( 4 port); large (6 port) and the Big Tube or x-large ( 6 ports with a 3.5 quart capacity). You can also get these sizes in both Nyjer and Eco-Clean tube feeders as well (with the exception of the Big Tube).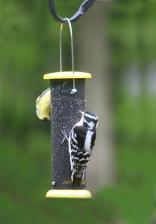 For those who are just interested in starting the hobby, we carry a line of small, inexpensive tube feeders. Just the right size for kids as well. Available in a green tube with 2 and 6 port sizes and a yellow 2 port feeder for Nyjer .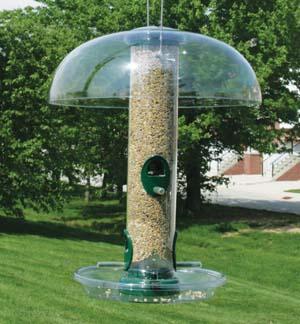 We always recommend domes over your feeders - here on the West Coast using any dome will significantly cut down on the amount of rain reaching your seed. We have several sizes of domes that you can purchase separately that fit on our seed tubes. And to keep any mess off the ground, seed trays in 8.5", 10" or 12" are also available.
Hopper Feeders

Hopper feeders are another popular style. These large, square feeders make a great statement piece in any yard. A hopper feeder consists of a centre storage bin that feeds to a larger, square tray and covered with a removable or hinged roof. The tray should be made of perforated metal rather than wood to keep excess moisture away from the seed.

They can be made of either wood or recycled plastic. Recycled plastic feeders are usually made of old milk jugs, a great way to deal with unwanted plastic! These feeders are almost indestructible and, as an added bonus, do not allow moisture to leach into the seed. We carry two different types of the recycled feeders.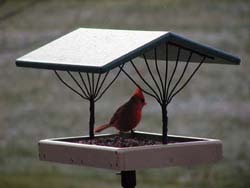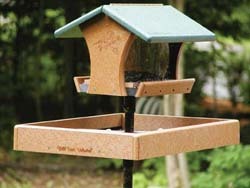 One is made of 5/8" poly lumber and is available in several sizes and styles. All sizes of the Eco-Tough and recycled plastic hopper feeders come with a perforated aluminum removable bottom tray and a specially designed base that allows moisture to drain away and, as an added bonus, gives you a better view of your birds! You can also use a Fly Thru feeder in recycled plastic. Birds love fly thru feeders because they have freedom of movement and can escape easily. All the recycled feeders can either be hung or mounted on a post.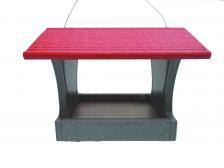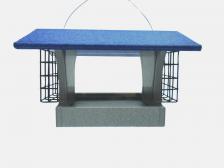 If space is a problem but you really like the recycled plastic hopper look, try the Green Solutions line by Bird's Choice. These feeders are made of 3/8" poly-plastic and not as heavy as the other styles. These can be hung off smaller poles or trees yet still offer the same mesh bottom and moisture resistant frames. They come in different sizes in either a red or blue roof with a grey body.